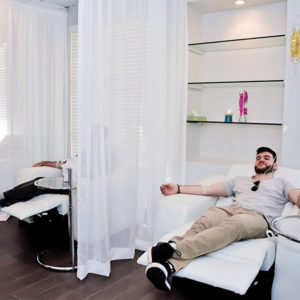 Your body requires fluids & nutrients in order to stay fit and maintain peak mental capacity. Unfortunately, most people do not receive adequate nutrition and therefore go through life experiencing a multitude of symptoms, which can include dehydration, headaches, fatigue, and muscle cramps. An IV Drip can change all of that!
Is there a better way to maintain balance & optimal health?
Yes, there is. Intravenous infusions or IV Drips of fluids & nutrients have always been the most rapid & effective means of restoring balance. Delivered directly into your bloodstream, only fluids administered via IV can offer health benefits that take effect immediately & last for days.
Fill out the form below to book an appointment, or scroll down to browse our list of revitalizing IV Therapy infusions!
Our IV Treatments
Infuzio offers various IV nutrient regimens designed to suit your specific health needs. If you desire energy enhancement, recovery from self-limiting illness/strenuous activity, treatment of a specific medical condition or immunity enhancement to optimize overall health and well being, select an IV nutrient regimen from our menu to best achieve your health goal.
Why Can't You Just Take Vitamins & Supplements?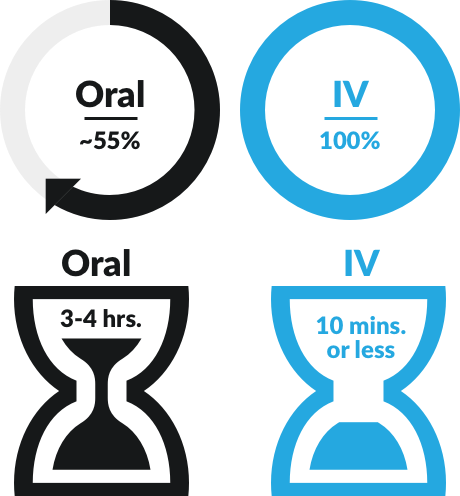 Vitamins, minerals & amino acids are amongst the various building blocks necessary maintain energy levels, sleep & appetite cycles, optimal mental health, and a functional immune system.
You may think that multivitamins, sports drinks & other supplements provide all the nutrition you need. However, you may not realize that traditional oral intake of these essential nutrients is extremely ineffective (compared to IV delivery).
When you take vitamins orally, your gastrointestinal tract dilutes their absorption and delays their delivery. Only about 55% of orally administered nutrients are ever absorbed, and it can take as long as 4 hours for them to have any effect!
Compare this with the delivery of IV infusions, which take as little as a minute or less to deliver nutrients. Infusions also result in 100% absorption and much higher blood concentration at the cellular level, thereby ensuring nutrient repletion and maximizing benefit.
What are the Health Benefits?
IV nutrient therapy has been utilized by physicians throughout the world for decades and has been proven by medical research to be safe and effective.
Most famous is a regimen coined "Myer's cocktail," which was pioneered by Dr. John Myers. Therapy was shown to be effective against:
Acute asthma attacks
Migraines
Fatigue (including chronic fatigue syndrome)
Fibromyalgia
Acute muscle spasm
Upper respiratory infections
Chronic sinusitis
Seasonal allergic rhinitis
Cardiovascular disease
& Many other disorders.
Interested in Learning More?
Interested in learning more about IV nutrition & its benefits? Download our FREE E-BOOK on infusion therapy. You can also call our office anytime during normal business hours to schedule a free consultation with our on-site medical director, Dr. John Disilvestro, a Board Certified cardiologist with a decade of medical experience. Call 561-756-9251!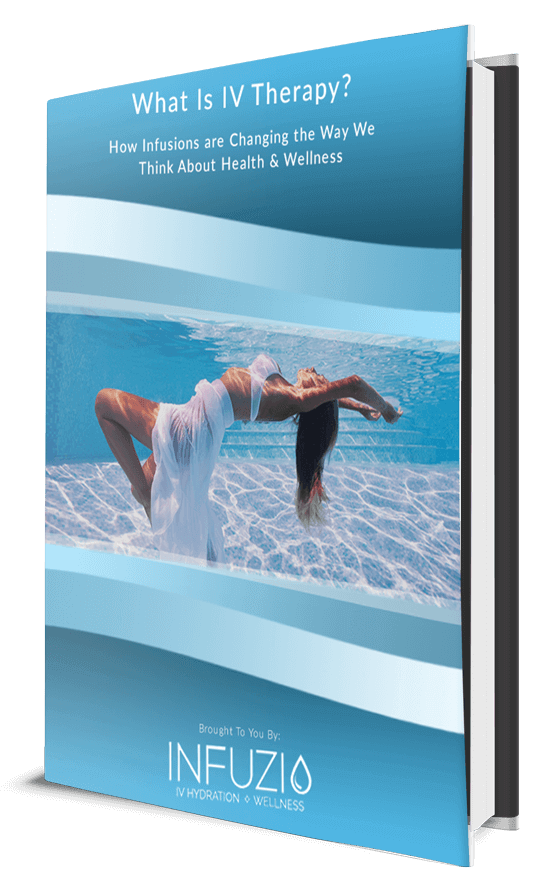 Please fill below form information to book your appointment.