Maintaining an ideal body weight has become increasingly challenging in our society. Demanding schedules leave little time to focus on health and well being. Preparing healthy, low calorie meals is time consuming often leading us to quick alternatives such as processed foods or "fast food". Unfortunately, dieting is not a one size fits all approach. Our certified nutrition specialists will identify the most suitable program for each individual. We will provide the support necessary to achieve one's goals. Please schedule a consultation today to begin the journey to a better you.
How the New Direction Weight Loss Program Works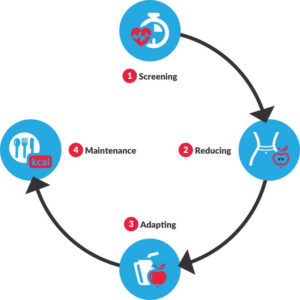 Infuzio's certified physician and nutritionist will be with you throughout the entire process of your diet and weight loss training, which is divided into four distinct phases:
Screening: First, we determine your health needs and goals through a combination of in-person evaluation and various medical, laboratory and psychological screening.
Reducing: After screening, we establish a meal plan to help you rapidly lose weight through scientifically designed meal replacements. You will be able to lose the weight in a very quick and safe manner. This means that you will have the proper amount of caloric intake including all the vitamins, minerals and proteins that are recommended to have a good physical and emotional condition. Our dietarians and exercise specialists will help you to learn how to eat healthy and some exercise habits that will make you lose weight.
Adapting: Next, you will progressively balance your diet with both meal replacements and select groceries. During this phase, our dietarians will help you to select the appropriate food which will control your weight and blood glucose levels. There will be weekly meetings with healthcare professionals who will be monitoring the changes in your body and help you to manage a new lifestyle with a healthier body full of energy and perfect weight.
Maintenance: Finally, you will eat only the groceries selected as part of your nutrition plan, and you will continue to work with the nutritionists at Infuzio to adjust calories, meal plans and lifestyle habits to ensure you remain in healthy & fit shape! When your body is in the ideal weight, our team will offer continuous support to motivate and reinforce the healthy lifestyle habits that you have learned during the previous phases.
Why choose Infuzio's New Direction diet?
In today's world, there is no shortage of diet and weight loss clinics. So why choose Infuzio as your weight management team? The answer is simple: Infuzio provides the professional medical supervision that the other clinics lack. Our team is comprised of certified nutritionists and technicians, not to mention our Board accredited medical supervisor, Dr. John Disilvestro. Additionally, this program will change your lifestyle through good nutrition and exercise instead of just dieting because doing this without a proper consultation can cause bad repercussions in your body in the future. For that reason, even people who suffer type 2 diabetes can learn tips on how to control it through a number of education modules.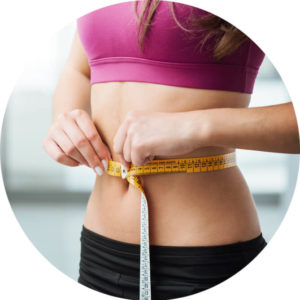 With a truly professional team guiding you to a healthier, happier life, you will be provided with:
Weekly weight and blood pressure analysis
Custom diagnostic blood panels that will measure your nutrient levels
Electrocardiogram (EGK) testing
Optional weight and body measurements
Weekly weight and blood pressure analysis
Custom diagnostic blood panels that will measure your nutrient levels
Electrocardiogram (EGK) testing
Optional weight and body measurements
You are what you eat!
With Infuzio, you will be led to a better life. You will acquire new health and a new self-image. You will avoid the risks and dangers of conditions that range from high blood pressure to cardiovascular disease to diabetes — and it all begins with the weight loss program at Infuzio! Call, email or fill out the contact form below to book a free consultation!
Food is the fuel that keeps your body functioning. When you use more calories than you consume, you lose weight. Moreover, proteins play a key role to support the body and maintain the metabolic functions which will help to:
Build and repair body tissues like muscle, organs and collagen
Keep skin, hair, bones and nails healthy
Regulate digestion and metabolism
Form hormones, enzymes and immune system antibodies to help your body function properly.
If your target weight is
Your protein intake should be:
*Dietary protein guidelines (measured as 1.2g to 1.5g of protein per kilogram of target body weight)
Traditional sources of protein like meat and unhealthy amounts of calories can increase the cholesterol and fat to your diet. You can get the daily protein you need with our nutritional supplements that help to burn fat, improve your metabolism, keeps you energized and taste delicious.